Walking Miles to Provide Meals
September 3, 2020
After breakfast each morning, 92-year-old Jane Mickelson heads to the pond at The Legacy Retirement Community in Lincoln, Neb. where she resides. It is here where she walks five laps—almost a mile total—before returning to her room and recording the distance on her calendar.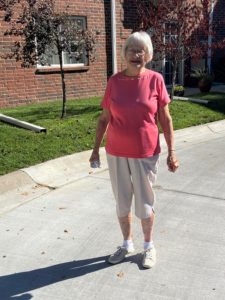 She has walked each morning for as long as she can remember, moving her routine indoors if the weather is unfavorable. She likes to be active and enjoys the fresh air.
But this September, Jane is not walking the daily mile for herself. She is walking to feed others.
"If people are hungry and I can do something about it, I should," Jane said.
It's this mindset that prompted Jane, alongside her daughter Judy Richter, to launch their fundraiser "Miles for Meals." Each day in September, Jane will walk to raise funds for the Food Bank of Lincoln.
Her mission coincides with Hunger Action Month, a nationwide effort by Feeding America and its network of 200 food banks—including the Food Bank of Lincoln—to increase action and awareness about the realities of food insecurity in the United States.
Helping hungry neighbors is nothing new to Jane. Through her involvement with First Lutheran Church, she has driven for Meals on Wheels and volunteered at food pantries. For years she taught nutrition, cooking and affordable meal preparation in a high school and later, in a home for women.
Before moving to The Legacy, Jane even earned the nickname "Grandma Cookie" for the homemade cookies she always had available for the kids in her neighborhood.
"She bought a cookie flag. If the flag was out, it meant you could come for cookies," Judy said.
Her love for food and feeding others stems from a childhood growing up on a farm, Judy explained. "She always told me she's never been hungry in her life because she grew up on a farm. That's why she wants to make sure other people aren't hungry."
This passion led her to earn a degree in home economics from Gustavus Adolphus College in 1949 and to build a library of recipes, including more than 35 different concoctions for cookies.
"I love to cook. It's interesting to cook. It keeps people happy," Jane said.
Though Jane has a resume filled with food-based work, Miles for Meals is her first fundraiser.
"Some people just need help," Jane said. "I hope this keeps some people from going hungry."
Donations to "Miles for Meals" can be made at lincolnfoodbank.org/donate or sent to Food Bank of Lincoln, 4840 Doris Bair Circle, Suite A, Lincoln, NE 68504. Please include a note or comment with your donation that says "Miles for Meals."