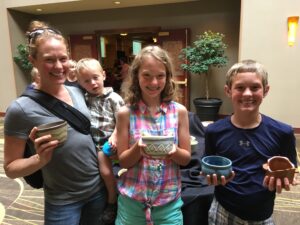 The Empty Bowls Luncheon welcomes more than 1,000 supporters to enjoy soup from 15 vendors and to take home a handcrafted stoneware bowl from Down Under Pottery Studio. These "empty bowls" are a reminder of the many bowls we have filled, and the bowls we still need to fill to help the 57,510 neighbors in Southeast Nebraska who struggle with food insecurity.
Save the date! Our 20th Annual Empty Bowls Luncheon will take place on Tuesday, May 31, 2022. More information and ticketing options will be available soon.
Interested in sponsoring this event? Learn more about Empty Bowls Sponsorship Opportunities.