27th Annual Letter Carriers' Stamp Out Hunger Food Drive
May 11, 2019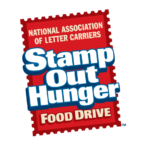 The BIG DAY this year is Saturday, May 11!
Fill a bag (any bag will do!) with non-perishable, non-expired food and leave it by your mailbox. Your letter carrier or a Food Bank volunteer will pick up the goods and deliver the food to the Food Bank of Lincoln. You can help provide supplemental food assistance to the more than 60,000 food insecure people who live in Southeast Nebraska.
Remember, the people who need help are not unlike your own family, immediate or extended. They are working families, the elderly and children. They are the families of those actively serving in the military. They are single parents, grandparents raising grandchildren, parents dealing with a child's serious health condition and families in which a parent has lost a job. These are folks doing everything "right," often working more than one job, but still unable to make ends meet.
Are you interested in VOLUNTEERING to help us with this community wide food collection?

Please contact Jami Gordon via email or by phone at (402) 466-8170, ext. 124.
Volunteer Requirements
Groups of two or three people per route. (If you're a solo volunteer, we'll match you up with a route buddy!)
All volunteers must be able to navigate a walking route with a basic map.
Kids can help! This is an ideal volunteer activity for elementary age school children and older who are accompanied by an adult.
Excellent opportunity for GoPo and other community service hours!
Volunteer shifts are (approximately) 8 a.m.-Noon.
TIP: We encourage volunteer groups to bring a wagon or small push-cart to help make your collection even easier.