Campbell's Grow and Share Produce Donations Program
June 17, 2019 - October 1, 2019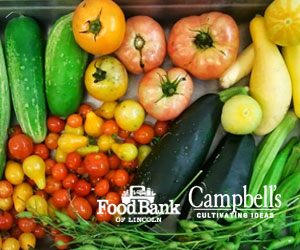 Fresh. Healthy. Seasonal.
Eating seasonally results in the most delicious and nutrient-dense produce. That is why Campbell's Nurseries and the Food Bank of Lincoln are excited once again to partner to bring fresh, healthy and locally grown foods to neighbors facing hunger through the Campbell's Grow & Share program.
Now through the end of the growing season, the Grow and Share program will accept homegrown goods from growers to benefit the Food Bank of Lincoln's food programs and agency partner network. An estimated 57,960 people who live in the Food Bank of Lincoln's 16-county Southeast Nebraska service area lack consistent and reliable access to enough food to live an active and healthy lifestyle.
Area gardeners are encouraged to bring excess fruits and vegetables to either of the two Campbell's locations: 2342 S. 40th Street or 5625 Pine Lake Road. The food will be collected for the Food Bank of Lincoln, and distributed to the Food Bank's more than 50 agency partners in Southeast Nebraska that serve low-income children and families. Gardeners can also drop off produce at the Food Bank of Lincoln Monday through Friday from 8 a.m.-4:30 p.m. The Food Bank is located at 4840 Doris Bair Circle. That is approximately four blocks north and one block east of 48th and Superior Streets.
Tips from the pros at Campbell's:
Avoid spoilage. Put your produce in paper sacks rather than plastic bags.
Do not pre-wash the produce.
Do not refrigerate the produce.
Thank you for helping us work toward a healthier, hunger-free community!