Food Fight!: a student-powered food & fund drive
October 14, 2019 - November 1, 2019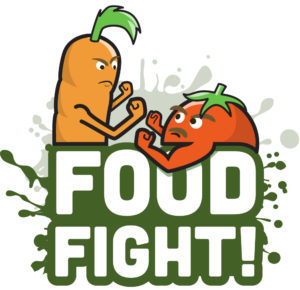 About Food Fight!, A Brief History
Food Fight! is a three-week friendly competition between area schools with one goal: to band together in the fight against hunger. Students collect items in a variety of ways, from going door-to-door in the community to holding special events and raising money that they donate to the Food Bank for food purchases. Students also package the collected food and deliver it to the Food Bank of Lincoln. All of the food collected helps feed children and families.
While collecting food for those in need, Food Fight! helps students develop organizational and life skills as they work together to accomplish a common goal. Since its beginning in 2013, Food Fight! has resulted in 129,953 meals for hungry neighbors in Southeast Nebraska. This student-organized, student-led campaign instills philanthropy and volunteerism among school-age youths.
Be True to Your School
The 2019 Food Fight! drive officially begins Monday, Oct. 14 and continues through Friday, Nov. 1. We're calling on YOU to support your school and help us make a dent in hunger in our community. Check the list of participating schools, and contact them to learn about Food Fight! activities planned for each school.  Make a donation of food or funds at the school or online. (If you donate online, please type "Food Fight! and the name of the school  in the Comments section, so we can be sure your gift is credited to the right school.)
Ready to Fight?
If you want to join in the Fight, here's what we ask of you:
Challenge friends and family to participate.
Share this page on social media.
Make your donation of food or funds between October 14 and November 1.
Info for Participating Schools

Attend the Kick-off event.  Wednesday, Oct. 9 at 7:30 a.m. at Russ's Market, 33rd and Highway 2 in Lincoln. The fun begins with doughnuts, juice and coffee at 7:15 a.m. followed by timed, one-minute shopping sprees beginning at 7:30 a.m.
Provide leadership to your community's Food Fight! effort.
Challenge friends and family to participate.
Attend the Awards Finale on Thursday, Nov. 14th at 5:00p.m. at Gateway Mall.
Food Bank of Lincoln Contact
Please direct all questions to Jami Gordon, 402.466.8170, ext. 124
Participating Schools
Dawes Middle School –

(402)

436-1211
Lefler Middle School –

(402)

436-1215
Lincoln East High School –

(402)

436-1302
Lincoln Lutheran School –

(402) 467-5404

Lincoln Northeast High School –

(402)

436-1303
Lincoln North Star High School –

(402)

436-1305
Lincoln Southwest High School –

(402)

436-1306
Lux Middle School –

(402)

436-1220
Malcolm Jr/Sr High School –

(402) 796-2151

Meadow Lane Elementary School –

(402)

436-1151
NE Supreme Basketball Team –

(402)

730-8709
Park Middle School –

(402)

436-1212
Pius X High School –

(402) 488-0931

Randolph Elementary School –

(402)

436-1163
Roper Elementary School –

(402)

436-1170
Schoo Middle School –

(402)

436-1222
St. Patrick's Catholic School –

(402) 466-3710