Giving Tuesday 2019
December 3, 2019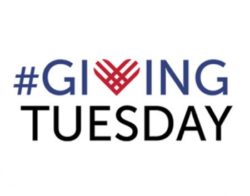 Join the Food Bank of Lincoln in celebrating #GivingTuesday — a global day of giving back.
"Because children, and families, and people are important;
Because food is among the most basic of needs, it nourishes body and soul;
Because we've been richly blessed, in that we have enough, more than enough, and others do not;
Because giving thanks is an active verb, and it works best with action."
-Marilyn Moore, Food Bank Board President and Child Hunger Hero
Tuesday, December 3 is the day!
Your support helps put nutritious food into the hands of children, families and seniors facing hunger in Southeast Nebraska. With your help, we can make this #GivingTuesday a "Giving Food Day." Every $10 you donate helps to provide nearly 30 meals.
Share meals and hope for the child whose family struggles to put meals on the table, for the senior citizen who chooses between food and medication, and for any individual who is at risk of hunger, your support truly makes a difference.
Donate Online: www.LincolnFoodBank.org
Via Mail:
Food Bank of Lincoln
attn: Giving Tuesday
4840 Doris Bair Circle, Ste. A
Lincoln, NE 68504-1465
In person (8 a.m.-4:30 p.m.)
Food Bank of Lincoln
4840 Doris Bair Circle, Ste. A
Lincoln, NE 68504-1465