Summer Food for Kids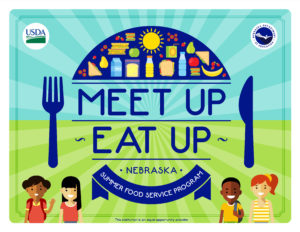 Children need good nutrition all year long. When school is out during the summer months, many children no longer have access to even one nutritious meal each day. Summer Meal Programs help to fill the gap. A lack of nutrition during the summer months may set up a cycle for poor performance once school begins. The Food Bank of Lincoln, in partnership with numerous community partners and the USDA, sponsors free summer food sites. Our goal is to ensure that children get nutritious food during the summer months so that they are ready to learn during the school year.
The Summer Food Service Program (SFSP) is a federally-funded, state-administered program that aims to provide nutritious meals to children in low-income areas during the summer months when school is not in session.
The Food Bank sponsors open sites for SFSP that are open to the public and operate in low-income areas where at least 50 percent of children residing in the area are eligible for free and reduced-price school meals. The meals are served free to any child at the site on a first-come, first-serve basis.
All sites must have a main contact/site supervisor that oversees the meal service operation.
A site supervisor must:
Attend the sponsor's (Food Bank of Lincoln) SFSP training
Supervise the meal service at the site
Manage site staff/volunteers
Distribute meals by following SFSP guidelines
Keep daily records of meals served
Store food appropriately
Keep the site clean and sanitary
Learn more by reviewing the 2021 Program Preview or call us with questions at (402) 904-6550, ext. 102.
Thank you to our previous Summer Food Service Program meal partner sites:
Air Park Recreation West
Arnold Elementary School
Belmont Community Center
Belmont Elementary/Recreation Center
Boys & Girls Club/Park Middle
Brownell Elementary School
Calvert Elementary/ Recreation Center
Campbell Elementary
Career Academy
CEDARS Northbridge
Clinton Elementary School
Connection Point (Crunch and Lunch)
Culler Middle School
Dawes Middle School
Don Sherrill Education Center
Elliott Elementary School
Everett Elementary School
F Street Recreation Center
Goodrich Middle School
Hartley Elementary School
Huntington Elementary School
Lakeview Elementary School
Lefler Middle School
Lincoln Christian Fellowship
McPhee Elementary School
Meadow Lane Elementary School
Northeast Family Center
Nuernberger Education Center
Pershing Elementary School
Prescott Elementary School
Randolph Elementary School
Riley Elementary School
Saratoga Elementary School
Trinity Lutheran School
West Lincoln Elementary School