Adjusting to a Pandemic Reality
September 29, 2020
Rock bottom.
Two words that describe a place Troy never thought he'd be.
Troy and his wife both had good jobs. They own an entertainment business on the side that provides supplemental income. It's their backup plan. But when the COVID-19 pandemic led to layoffs for both Troy and his wife, and the backup plan was disrupted by restrictions on gatherings, rock bottom is where he found himself.
"When you have two kids, you burn through your savings fast," Troy, an engineer, said. "We have a 9-year-old and 1-year-old who need to keep eating no matter what. So we hit rock bottom within a half of a year. It got to the point of choosing between paying rent and buying food."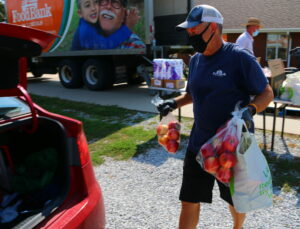 Troy first learned about the Food Bank eight years ago. A friend found himself in a similar situation and visited the Food Bank for support. "They don't ask for anything. You just go through and they give you food to live on for the week," Troy recalls his friend saying. This same friend encouraged Troy to attend a distribution.
"I never wanted to accept help," Troy said. "I hit rock bottom and that's what it took for me. We had nothing. We didn't have a choice. We had to go to the Food Bank."
And so he did.
Troy attended a drive-thru distribution. He joined the line and opened his trunk; it's what he saw others doing. "They filled us with groceries. It was a prayer answered," he said. "And they told me 'that's what we're here for. Don't you dare be embarrassed.'"
The money saved on groceries that week paid the month's electric and cell phone bills – two expenses Troy explains, you "just can't get around. How are you going to look for work without a phone?"
That same day, a person unknown to Troy also handed him $55. Noting the desire to "do a good deed," the person challenged Troy to do something nice for his family or for someone else. Troy filled up his gas tank, happy he could get his kids around town, and used the remainder to pay for a stranger's gas. That stranger was a single mother, he learned, who was also struggling as she was going through school.
A few weeks after attending distributions, Troy started a new job and his wife returned to work. While Troy looked forward to the return of a steady income, he noted his perspective has been affected by this experience.
"You have genuinely changed someone like me. I got to see the other side of the coin. There is more of a need to help people than we realize. Sometimes we get in our routine, focused on ourselves and our families, that we forget about our neighbors across the street counting pennies to make ends meet."