If you have extra food to share, or have purchased food or personal care items for neighbors in need, please drop your generous donations off at:
Food Bank of Lincoln | 1221 Kingbird Road, Lincoln, Neb.

Super Saver | 56th Street and Highway 2

Super Saver | 27th Street and Cornhusker Highway

Edward Jones | All locations in Food Bank of Lincoln's service area
*Food Bank barrels are blue and often located inside the entrance/exit. Our barrels have the Food Bank logo on them.
Most Needed Food Items
Tuna and other canned meats
Canned fruits and vegetables
Peanut butter
Macaroni and cheese and other boxed dinners
Brown rice and long-grain white rice (not instant)
100% fruit juice
Olive or canola oil
Spices
Low-sugar, whole grain cereals
Healthy snacks (granola bars, nuts, dried fruit)
Coffee
Most Needed Personal Care Items
Toilet paper
Diapers
Soap
Feminine hygiene products
Toothbrushes and toothpaste
Shampoo and conditioner
---
We encourage pop-top lids on cans whenever possible.
We cannot accept individual jars of baby food. We can accept jars of baby food that are encased in plastic, in various case sizes. We can also accept boxes of baby cereal.
For a downloadable flyer of most needed items, click here.
Host a Food Drive
Thank you for your interest in holding a food drive. The Food Bank of Lincoln appreciates your support and help in alleviating hunger in Southeast Nebraska. For a downloadable food drive resource, click here.
How do I get a barrel for my drive?
The Food Bank of Lincoln has barrels and totes available for your food drive. We kindly ask you to help reduce transportation costs by picking up the barrels from the Food Bank. If you are requesting 2 or more barrels, delivery arrangements can be made with a minimum of 48 hours notice.
To request 2 or more barrels, please fill out this form.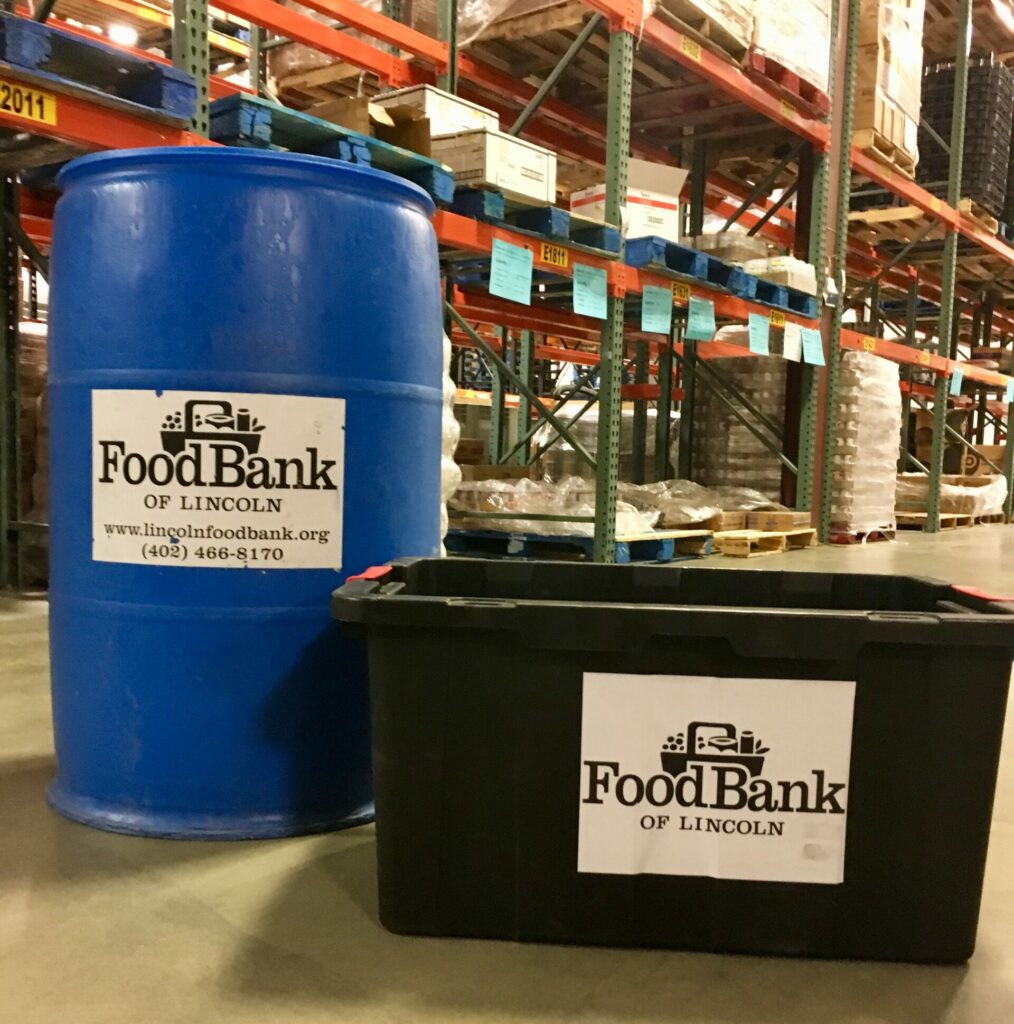 What happens if the barrels fill up before my food drive is over?
If your drive is even more successful than anticipated and your barrels are overflowing before the end of your drive, please contact Jami at (402) 466-8170, ext. 2010. We will work with you to make arrangements to schedule an additional pick up or delivery. We may need 48 hours notice to get a driver to pick up multiple barrels. We will do our best to get the barrels as soon as possible.
How do I get donations back to the Food Bank?
Donations can be dropped off Monday-Friday between 8 a.m.-4:30 p.m. at the Food Bank of Lincoln, 1221 Kingbird Road, Lincoln, Neb.
We are grateful for donations of any quantity, but transportation costs limit our ability to pick up donations of one barrel or less. If your food drive donations fill one barrel or less, please make arrangements to deliver to the Food Bank.
If you have at least two barrels at the end of your drive, please contact Jami at (402) 466-8170, ext. 2010 and we will schedule a driver to pick up your donations. If your barrels are overflowing, please let us know so our team can plan accordingly and bring extra supplies to move your donations.
Host a Virtual Food Drive
Virtual food drives provide an alternative option to a traditional collection of goods and allow your organization to shop in an online store created specifically for your group. With just a few clicks, anyone can purchase the most needed items and make a difference in the lives of neighbors facing hunger.
If your business or organization is interested in hosting a virtual food drive REGISTER HERE, or contact Corrine Gernhart at (402) 466-8170, ext. 2009 or cgernhart@lincolnfoodbank.org.