Mobile Produce & Lincoln Fresh
Lincoln Fresh … Where healthy is FREE!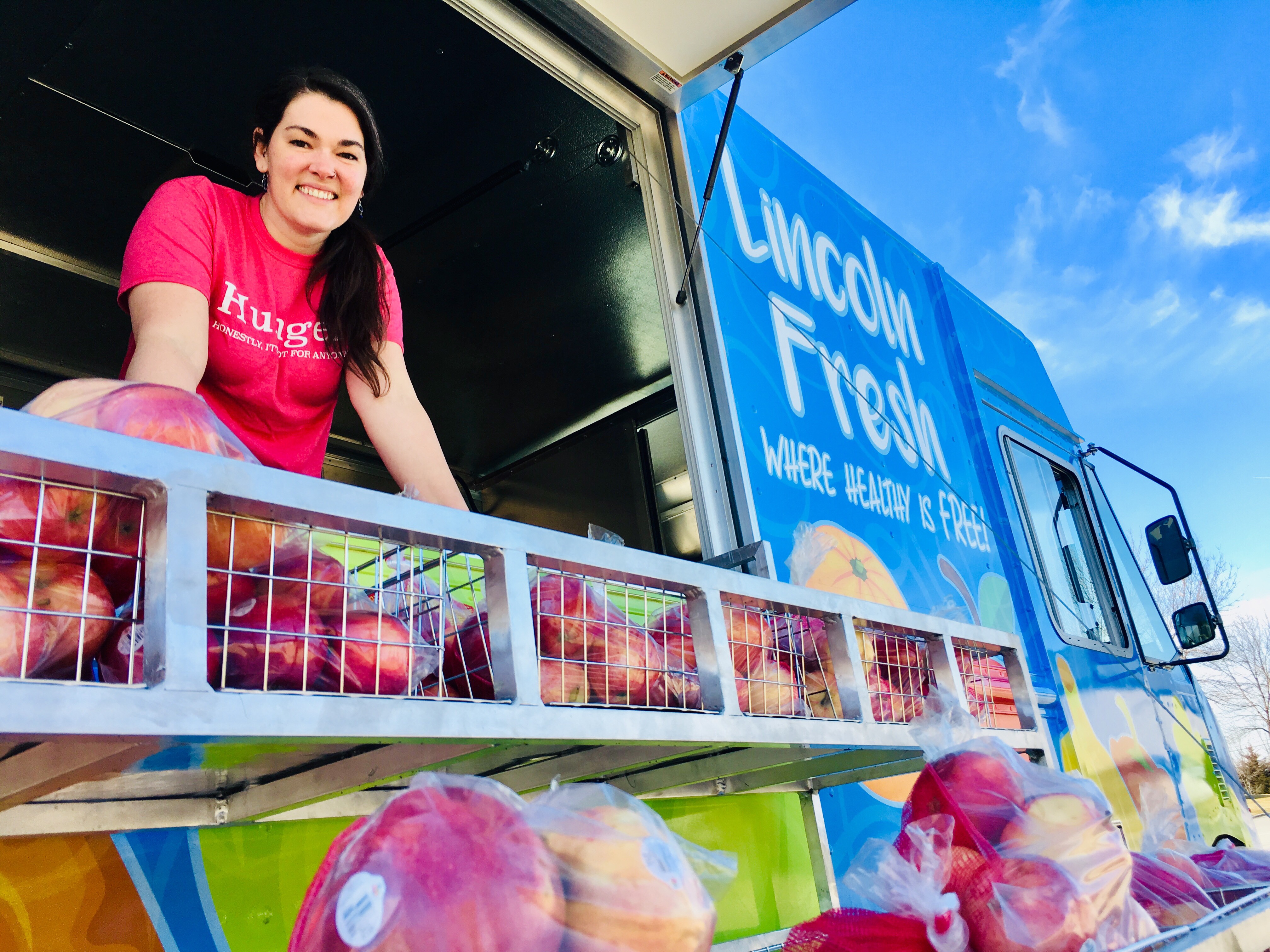 As Lincoln Fresh comes to the end of its inaugural year, the Food Bank of Lincoln would like to thank the Community Health Endowment for funding this ambitious program. We're also grateful for our partnership with the Community Action Program of Lancaster and Saunders Counties. Additionally, we appreciate Nebraska Extension for contributing their expertise related to food preparation and recipe ideas, which added meaningful benefit to the Lincoln Fresh experience.
In 2019, the Lincoln Fresh Mobile Distribution Truck made 265 stops, distributing 105,419 pounds of fresh fruit and produce to 12,793 visitors. While the regular weekly schedule ended in November, we're pleased to announce three upcoming holiday stops:
Friday, Dec. 20th, 10:30 a.m.–11:30 a.m. at Aging Partners Northeast Center (6310 Platte Avenue)
Saturday, Dec. 21st, 11:00a.m.-Noon at Community Action's Gathering Place (1448 E Street)
Monday, Dec. 23rd, 5:00p.m.-6:00p.m. Carol Yoakum Family Resource Center (4621 NW 48th Street)
Our 2020 schedule will be announced after the new year. We'll look forward to seeing you in March 2020, as we embark on another year of working to make Lincoln the healthiest community in the nation.
If you visited any of our Lincoln Fresh stops in 2019, we'd love to hear from you. We welcome your suggestions on how we can improve this service.  Or if you'd care to provide a testimonial on how Lincoln Fresh made a difference for you or your family, we'd be grateful for your comments. You can help us demonstrate the impact of Lincoln Fresh when we apply for grants and other financial support to keep the Lincoln Fresh Truck stocked and on the move. Submit your comments by email. Thank you!
Please bring your own bag. Lincoln Fresh will be canceled in the event of lightning or a hazardous weather warning.
2020 Rural Produce Run Schedule – Download Here
The Food Bank of Lincoln's Monthly Produce Runs bring additional fresh fruits and vegetables to neighbors in our rural service area. As always, this extra food delivery depends on two key factors: weather and our ability to acquire enough produce. 2019 Monthly Produce Run stops will be as follows:
First Thursday
Crete:  United Church of Christ, 440 E. 12th Street – Drop-off
Fairbury:  BVCA Jefferson, 624 5th Street – Drop-off
Wymore:  Wymore Pantry, 112 N. 10th Street – Drop-off
Beatrice:  Salvation Army, 624 Market Street – Drop-off
Second Thursday  
York:  BVCA York, 3401 N. Lincoln Avenue  – Drop-off
David City:  Auditorium parking lot, 699 Kansas Street – Pop-up, 11 a.m.-Noon
Ashland:  American Lutheran Church, 1642 Silver Street – Pop-up, 2-3 p.m.
Third Thursday  
Nebraska City:  SENCA  Otoe, 917 Wildwood Lane – Drop-off
Tecumseh:  SENCA  Johnson, 172 S. 4th Street – Drop-off
Auburn:  Horse Arena Lot, 816 I Street (north end) – Pop-up, 2-3 p.m.
Fourth Thursday  
Hebron:  Roosevelt Park (btwn. 4th & 5th on Jefferson) – Pop-up, 11 a.m.-Noon
Milford:  Bellwood Mennonite Church, 520 S. B Street – Pop-up, 2-3 p.m.