Healthier Eating
January 4, 2021
Just $16 stand in the way of Chris and her family being eligible for the Supplemental Nutrition Assistance Program (SNAP), formerly known as food stamps.
"We are literally just a few dollars over the income limit," she says.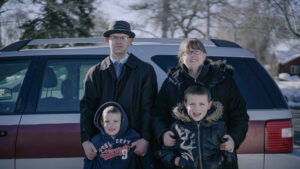 Feeding her family of four during the pandemic has been challenging. Side jobs that typically bring in extra income are harder to come by in this economy. She and her husband have made sacrifices for the two children they care for. "The kids were the only ones that would be able to drink milk because we couldn't afford to buy for everybody," she explains.
They have a garden, but it isn't enough.
So when the Food Bank started distributing food in her rural community, it "was a blessing" that has not only helped feed her family, but has provided them with nutritious foods she couldn't otherwise afford.
"The kids aren't hungry," she says. "They go get an apple or orange or a handful of blueberries instead of eating bread and butter with sugar on it. This is healthier eating for us. It has made a huge difference."
After attending her first distribution, Chris was surprised by the quality and freshness of the foods she received, describing the assortment of goods as "a mini Christmas dinner." The variety of dairy, produce and meat has enabled her family to eat balanced meals—something that is especially important for her husband, who is diabetic. And while she is and would have been grateful for any food she was given, the fresh produce has been her favorite.
"The kids get so excited over the fresh fruit and it's neat. It isn't just a little bit; it's enough for the whole family."
When the pandemic arrived in mid-March, the Food Bank shifted to a drive-thru model for food distributions. This method has helped Chris feel safe getting the food she needs to feed her family. "There's no fear of going. You don't feel like you're going to be taking a chance because they take care of it; it's no-contact."
Chris is appreciative and humbled by it all—the way the food has helped her family and her small community—expressing "a giant thank you" to those who help make food distributions possible.
"Keep getting to the small towns. The families I talk to that are going wouldn't have bought the food on their own; they can't afford it. It's the extra nutrients they normally bypass for something cheaper," she said. "We are seeing more elderly rural people coming to these [distributions]. There are people around here going through different cancer treatments and this has been life changing for them, too. Everybody is grateful."