LPS Student Gives Back
September 24, 2020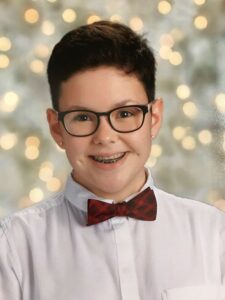 When Sawyer Zeece was looking for a hobby in the summer of 2019, she knew she wanted to work with kids and do something meaningful.
"If I could do something that would have an impact on someone's life, I knew it would be more worth my time," Sawyer said.
So when she found a volunteering opportunity at the Lincoln Children's Museum, it was a natural fit. She got to help at the museum's summer camps and other events. She also had the chance to mentor a 6-year-old boy with autism.
This dedicated service earned Sawyer the 2020 Prudential Spirit of Community Award, an honor given to one middle and one high school student in each state for their exceptional volunteering efforts. In addition to the award, each honoree was given $2,500 to donate to the local organization of their choice.
Sawyer generously chose to donate her prize to the Food Bank of Lincoln.
"I knew (the Food Bank) was a local organization that has done a lot of good for the community and helps a lot of families in need," Sawyer said. "I knew my money would be put to good use and would help a lot of hungry families."
Sawyer, now a freshman at Lincoln East, was an eighth grade student at Lux Middle School when she received the award. She looks forward to the day the pandemic is over so she can resume her volunteer work with the Lincoln Children's Museum and other organizations in the community.
Until then, she encourages everyone to consider ways they can give back.
"I would advise you to see what's out there and explore the options," Sawyer said. "You can really make a difference in someone's life and your own life, too, if you choose to get out there and help people."