Trying to Make Ends Meet
January 16, 2019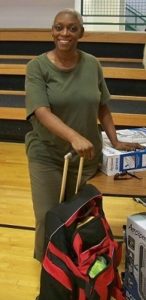 Vallary had been struggling to find employment for quite some time. She dipped her toes in many part-time jobs, trying to find the right fit, until she decided it was time to switch gears and finally pursue college. Soon after she began working toward a degree, her husband left their home and family. Now she has to take care of her kids all alone – with a rising pile of school bills.
She recently found work as a paid intern in the computer industry while continuing to work on her degree. But the minimal income doesn't come close to meeting the needs of her family.
Vallary says, "Times are tough and I don't have the experience many employers want. Plus, I have little ones to take care of."
Even with food assistance from the Food Bank, Vallary is short at the end of each month – a reality for many hard-working single parents.
"The Food Bank usually has pretty good stuff. And everyone in my family appreciates the help. Right now, we are searching for a little more help."